Well, it goes without saying today is already Thursday. Which, if you didn't know, is the day before Friday. Can I get a "whoop whoop"?!
No?
Ok.
Either way-you're in for a real treat for today's
Saw it. Pinned it. Did it.
project. Though this may have been easier than ALL of the other projects I've done (Hey. I'm all about simplicity, folks.), it's by far my favorite one yet because it's so near and dear to my heart.
And I'll give you just one hint...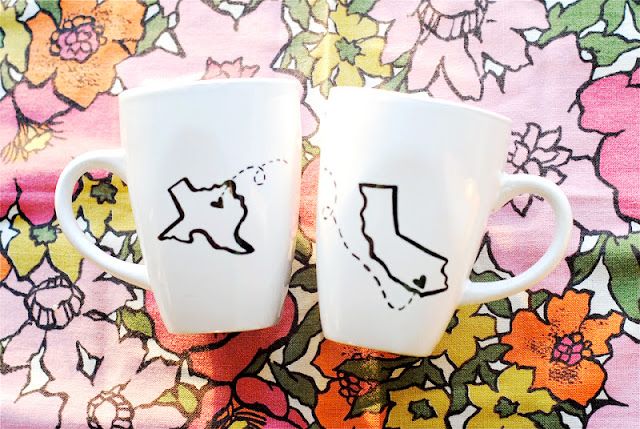 Original pin
.
What you'll need:
2 white coffee mugs (Target $3)
Sharpies (whichever colors you prefer)
An oven
First, you'll need to make friends with someone halfway
across the world, like my lovely co-host/PIC/BFF,
Katie
, to make these work.
Once you've found your friend, preheat your oven to 350 degrees and then teach yourself how to draw both your state and their state. Warning: drawing states is NOT an easy task. Actually, I'm terrible at it and therefore, I've decided a tattoo artist career is NOT in my near future. Shocker.
I know
.
After you've practiced drawing both of your states ON PAPER, you'll want to use eyeliner to draw the states on the actual mugs, I mean, unless you're just a ridiculously talented state drawler because Lord knows I would have gone through an entire case of white coffee mugs had I went straight to the mug with a Sharpie.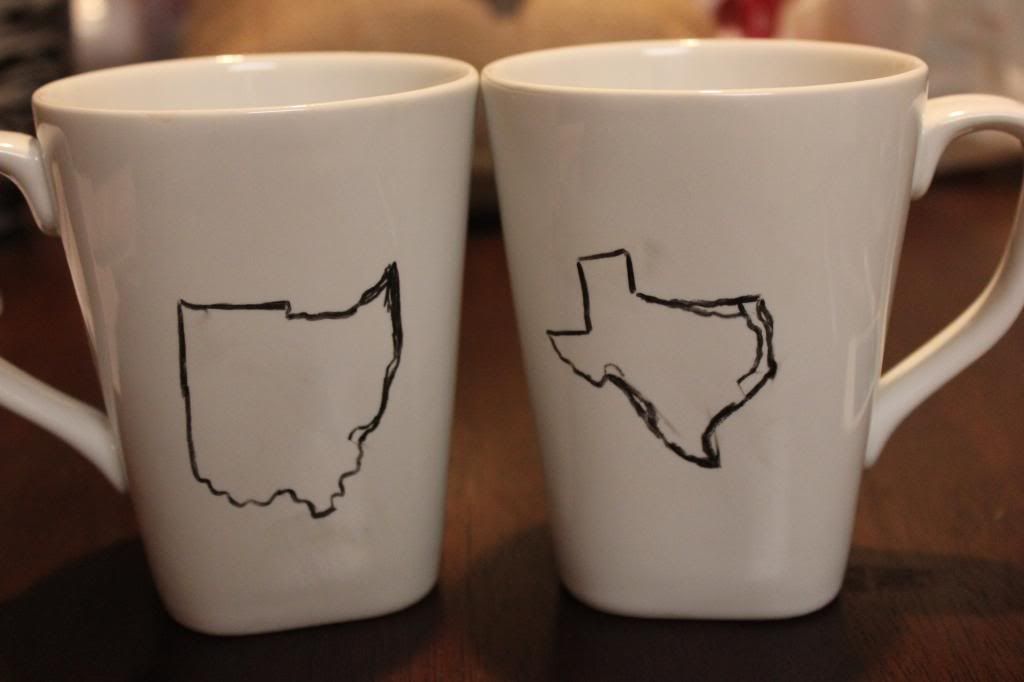 Once you've drawn your states with eyeliner, trace around the outside of the eyeliner with your marker. Just a thin line, for now. Allow your marker to dry and using a wet rag or sponge, wipe away the eyeliner so that you just have the thin stencil of the state in marker. Go over the lines to make them as thick as you'd like.

Add whatever final touches you wish and stick those gems in the oven to bake for 45 minutes! (When you bake them, it seals the marker into the mug so that you can wash it over and over again without the marker rubbing off. Genius, right?! Not my idea...)
You keep the mug with their state & you'll need to mail them (obviously) the mug with your state on it. Now I know every time Katie drinks her morning cup-o-joe, she'll have no choice but to think about your's truly. ;) (
She's welcome.
)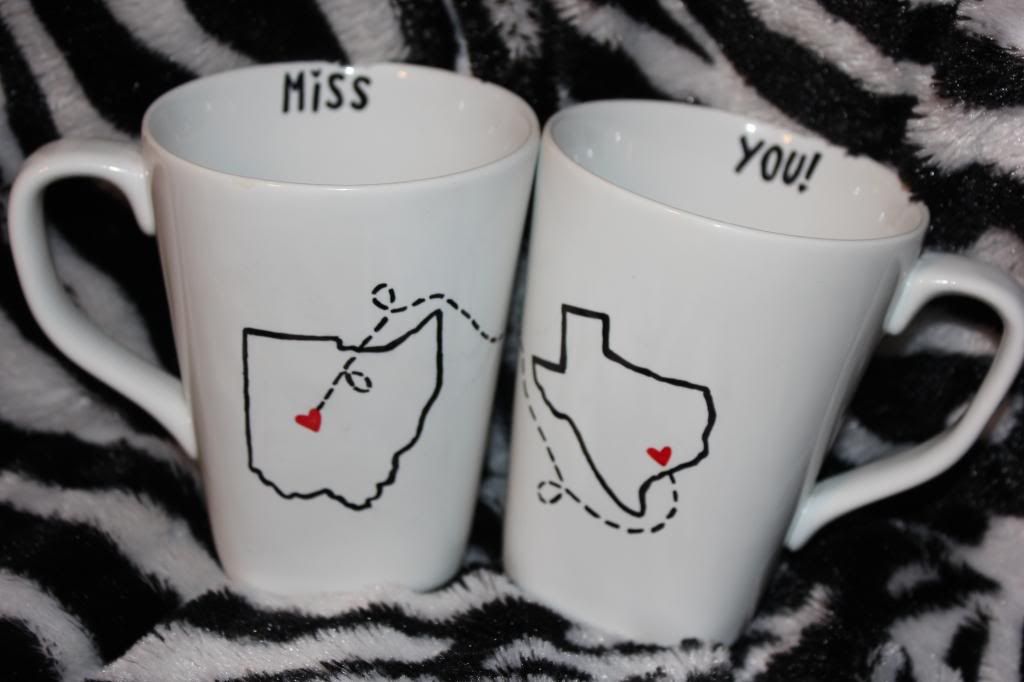 I can't get over how flippin' adorable these turned out! I'm still trying to convince
Katie
to pick up and move to the TX, but I don't think it's working. A coffee mug was the least I could do. ;)
You know the drill!
Link up using the linky tool below so everyone else can see what you've created!
Link back to
Katie
and I's blogs in your post so other people can know about the link up!
Include the button below by pasting the HTML into your post. Pwetty please?